Kiln-Dried Firewood
Our wood varieties are offered two ways: green (non kiln-dried) and kiln-dried. Kiln-dried firewood is dried on-site in our commercial kiln at a high temperature to reduce moisture content making it easy to light. Additionally, this process kills any fungus or pests that may be in the wood. Here at Black Dog Firewood we dry our wood for 12x longer than the USDA standard.  Our wood spends 48 hours in our professional temperature controlled kiln. All kiln-dried products are available by the Large Pallet, Eco Pallet, or by the Bag/Bundle. Kiln-dried wood is perfect for cooking in commercial wood grills, Argentine Grills, back yard and commercial pizza ovens. It is also a superb choice for indoor fireplaces. Kiln-dried is generally requested in oak, but we are able to kiln-dry any wood we stock. Our Kiln-dried firewood exceeds the Florida Department of Agriculture 5B-65 requirements. We serve over 300 amazing restaurants here in Florida and abroad.
                           '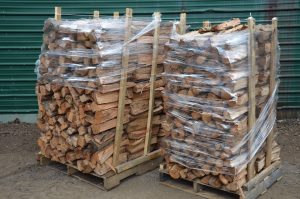 Large Pallet on Left – Great for restaurants with more space or storage outside
Eco Pallet on Right – Perfect for smaller footprints and/or indoor storage
Smoking Wood Chunks
Chunks are available by the pound in oak, pecan, mesquite, apple (seasonal), hickory, and cherry. Split with our customers in mind, chunks are sized right for your Big Green Eggs and Smokers! Each wood has a different flavor palette so we are happy to help you determine which will bring the best out of your culinary creations.
Whether you need one pound or 1,000 pounds of smoking wood, we have what you need!                                                                                                                                                                 
Charcoal
Black Dog only stocks the best in hard lump natural charcoal: FOGO and Mali's.  
Our restaurant partners and customers know hard lump natural is the only way to go!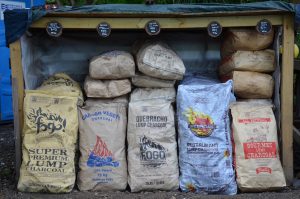 https://www.fogocharcoal.com/   http://maliproducts.com/