We professionally deliver all over Florida
Black Dog Firewood stocks high quality wood for all your fire and cooking needs
Ready for a fire? We have firewood available by the bundle, wheelbarrow, or pallet for all your backyard fireplace or fire pit needs. Indoor fireplace? May we suggest our kiln-dried oak. It burns cleanly, lights fast, and leaves less ash. All wood may be picked up at our hub in Tampa, or professionally delivered to your home or business by the pallet. We have two pallet sizes – Large (similar to 1/2 cord) and Eco (similar to 1/4 cord).
Don't wait until the last minute to order wood for the cooler months. Our busy season will be in full swing by then! Avoid the waitlist, order now!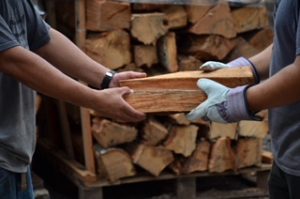 Our professional and bonded delivery team will place your wood anywhere accessible by cement. We do not handstack. 
Do you have a backyard smoker, pizza oven, or outdoor fireplace? Check out our cooking wood and smoking wood. Let us make cooking and enjoying your backyard easy!