Trustworthy. Family Owned. Professionally Operated.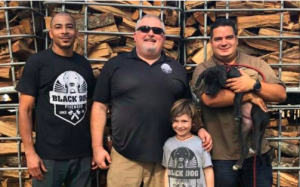 Black Dog Firewood was founded in 1985 as C & R Distributors.  Over the years, it has evolved, the name has changed,  but it has always remained a family-owned business.  We have been serving over 150 of your favorite wood fired restaurants in Florida for the past 30 years.  Whether you are a large scale restaurateur, BBQ enthusiast, or just want to fuel your fireplace, we are here to partner with you.
What sets us apart?
Black Dog Provides Professional Service and Delivery:
We schedule deliveries, we arrive on time, we are neat and tidy, and we complete our work efficiently. Our trucks and drivers are licensed and insured. We take pride in making sure your wood is stocked appropriately, and are happy to help if you run low unexpectedly. We work hard to have our partners needs met, and are always happy to discuss options to help customize our products for your needs.
Competitive Pricing. No Gimmicks:
We do not use "Come On Pricing" in order to influence your business. We respect our partners, and  offer excellent quality and service at competitive prices.
Our products are pure. Period.
With Black Dog Firewood you get what you pay for. We deliver the type and quantity of wood you order. No fillers, no substitutions. Just excellent high quality products. We stand behind our products.
We have Mid and South Florida Locations:
We serve the state of Florida from both Tampa and Ft Lauderdale. We take pride in being a part of the communities we serve. Our Managers in both locations are here to help with any needs that may arise quickly.
We believe in giving back:
Our company name honors our own big black dog, Cole.  He was rescued by Florida All Retriever Rescue  in 2009. A portion of our proceeds go to FARR, Florida in hopes of helping other Black Dogs find new homes.